When creating an Autoresponder you must decide which type to use in the Source Step. There are three types of Autoresponder: Contacts, Groups, and Campaigns.
Contacts
This type of Autoresponder is best used to send out a campaign to your contacts based on a date field associated to their details in the address book. A common example of a Contacts Autoresponder is for a Birthday, where a campaign is sent based on this date to the selected contacts. Choosing to use a Contacts Autoresponder requires the following settings to be filled out:
Contacts: Select which contacts the system will use with the Autoresponder. You can select all of your contacts or a group(s) of contacts.
Field: You must choose the date data field the Autoresponder will be working off, such as the date the contact was created. Custom fields can also be used however they must be a date field.
Send: You can specify the sequence of when the campaign is sent. You can choose the exact date (Month and Date) or schedule the campaign to go out a certain amount of days before or after the value of the date field.
Frequency: Select if you want the Autoresponder to be sent out on the anniversary of the date (does not take into account the year) or once on the exact date.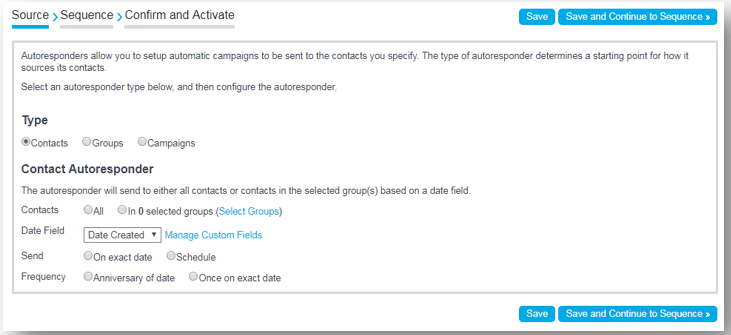 Groups
This type of Autoresponder will send out your campaign to any new contacts added to the group within a 24-hour period. This Autoresponder could be used to welcome all new contacts to a newsletter or as confirmation of event attendance assuming they are added to an 'RSVP – Yes' group.
Groups:  Select your group(s) to be used for this Autoresponder.  
You will then be asked whether you want to stop sending additional campaigns in the sequence to contacts if they are removed from selected groups. 

Campaigns
This type of Autoresponder will send a campaign to contacts that have already received another campaign in the past. This type of Autoresponder can help a sales process or act as a follow up to a specific campaign.
Campaigns: Select the previously sent campaign(s) that contains the contacts you wish to send your next campaign to.
Send: Specify the amount of time to wait to send the next campaign; this can be a number of days, weeks or months after the initial send was made.

Additional Tips
To set the days for the Campaign autoresponder to be sent please note that the system will count from the day after the last communication was received.
For example if the first communication was to be received on the 20th of February, and you had set it up so that 7 days later the recipient would receive the next communication, the next communication would arrive on the 27th of February.
The system doesn't distinguish weekends from business days so please take this into account when choosing the number of days 
All Autoresponder can be disabled or deleted at a later date if required
There is no limit to the number of Autoresponder that can be running in a user account but it is down to the users to manage these accordingly