Create a new Campaign from a Template
Select the 'Campaigns' tab and click on 'Create a Campaign'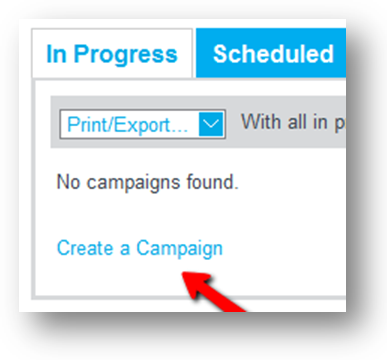 Click to enlarge
Select a template. Click 'Use' located on the template of your choice. It will then ask you to name your Campaign. Provide a Campaign Title and click Create. This is an internal reference for the Campaign.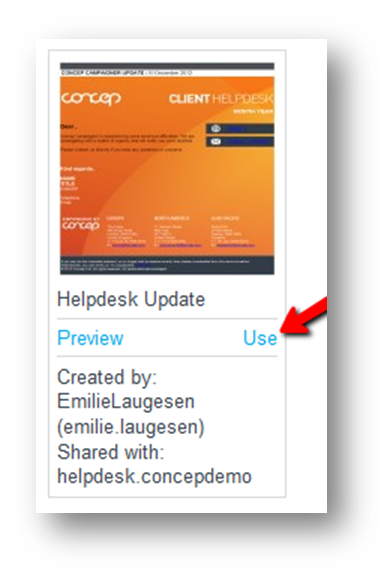 Click to enlarge
You will now be in the main Content section, where you can start editing your Campaign.
Select your Profile. This is the name you want to show who the communication is coming from. You can add a profile by clicking Manage Profiles.
Select your sending domain in the From field. This is the email that is displayed, showing the recipient what email address the campaign was sent from. 'From' emails will appear they come from your sending domain. This is locked down but you are able to change the area in front of it.
Subject; Enter a subject of your Campaign that will show in the Subject line of the email.
Mail Merge; you can select the mail merge drop down to pull specific information from your contacts list data. For example if you wish to personalise your communication to the individual by directing it to the recipient, you can do so i.e. for "Welcome Jack" you would select the mail merge [First_name] so the subject field reads: "Welcome [First_name]". 
Replies; Click on the blue Show link next to Advanced to view the Advanced section. This is where you set where reply emails go to. You can send it to a single email address or multiple email addresses by selecting the bottom box and entering in the recipients email addresses.
You may also set replies to go to the profile email address as well.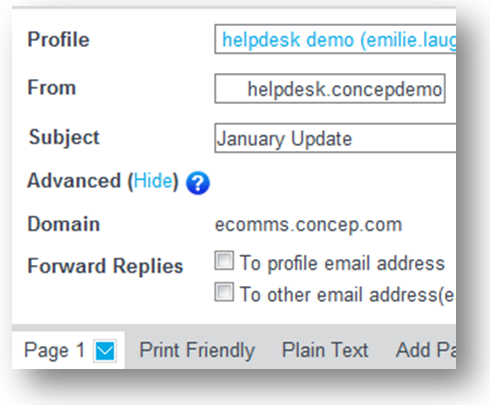 Click to enlarge
You can edit the content inside any of the red dotted lines. This shows you what you can and can't edit on the template. For example you can edit text manually or edit content in tables.
When clicking in one of the editable boxes, the Tool Bar will appear.
HTML – If you have HTML skills, you may click on this icon to edit the HTML
Create links, for example another page in the Campaign, a Survey or social network site
Importing an image
We advise that you click save frequently as you go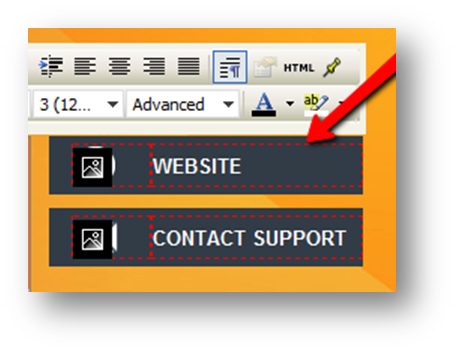 Click to enlarge
Creating a Print Friendly version is discretionary. Many clients create a print and mobile friendly version for those recipients who receive a Campaign on a handheld device.
Click on the Print Friendly tab and select the content areas you wish to display on the print friendly version of the Campaign by selecting the 'Insert Page Content' dropdown.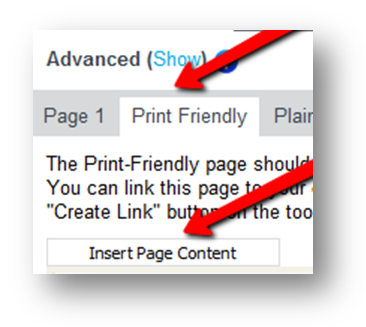 Click to enlarge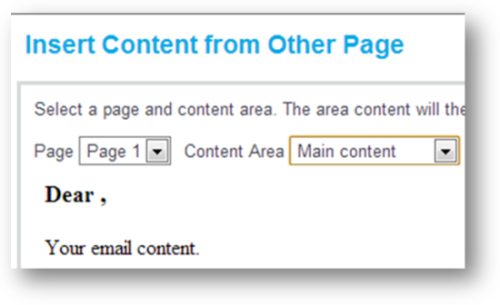 Click to enlarge
This is set up as default; this same message runs across all your campaigns. This will be sent to recipients if they are set to plain text as you know they are on a Blackberry device or the device cannot accept the HTML.
The URL is created and is sent automatically.
We always advise that some basic content to be entered in order to engage the recipient. This can be set up for one User Account or across a full set of client accounts so whenever you create a new Campaign you don't have to edit it each time.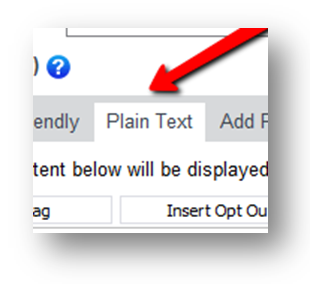 Click to enlarge
Select the 'Add Page' Tab and enter a Page Name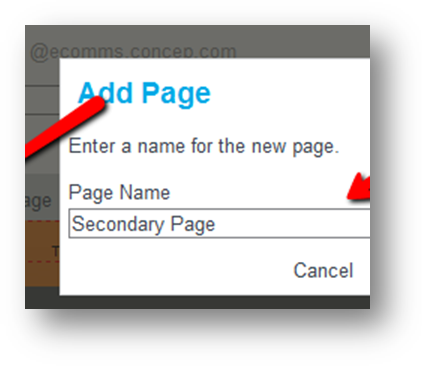 Click to enlarge
On the new page you just created, you can select the dropdown for more actions. The new page will automatically use the template you have selected for the first page; however you can change this by selecting 'change Template'.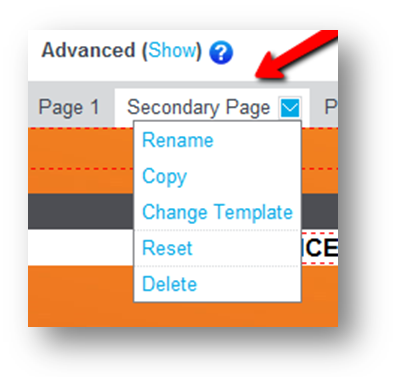 Click to enlarge