Prerequisites
An Email Marketing Administrator security role assigned to your Microsoft Dynamics CRM user.
In your Microsoft Dynamics CRM, in versions lower than 9, open the main menu and go to Settings > Customizations or if you are using V9 and above, you will first need to click the Settings wheel at the top of the page and select Advanced Settings.
Select Customize the System, then expand Entities
With the entities section expanded, find the Contact and click to expand. Once it is expanded click on Fields.
Click on New.
A new window will open. Create the fields in line with the image below.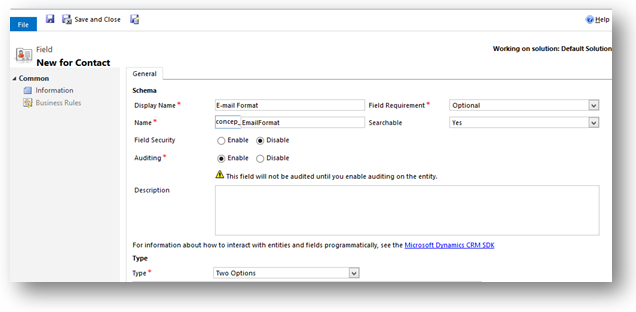 Display name: E-mail Format
Name: EmailFormat
Type: Two Options
By default the field values will be set as Yes and No. Select the Yes value and then click on Edit. Rename it to Plain Text. Then rename the No value to HTML. Click on Save and Close to resume the field creation.
Back in the Customization window, click on Form in the Contact section.
Double click on Contact form you want to add the new field to. Once the form editor is open, drag the new field into it and click on Save and Close.
Back in the Customization window, click on Publish All Customizations to have your changes published to all users.