To create processes/workflows it is recommended that you have system administrator rights so your workflow can update Campaign Responses created by other users.
The process creation is located under Settings (for Versions 9 and above you will first need to click into Advanced settings in the top right corner of the screen).
Click on new to start creating a new process. A pop up will open and you should set the field values as below:
Category: Workflow
Entity: Survey Response
Run workflow in background: Ticked
Type: New blank process
Once you click on 'Ok' a new pop up will load and you should change the scope to organization, enable the workflow to be run on-demand and untick the field 'Record is created'.
You will then click on 'Add Step' and on 'Update Record'. A row will be added into the grey box. Click on the Update dropdown and select the 'Campaign Response' option and then click on 'Set Properties'.
A new pop up will load and you must scroll down to the 'Additional Fields' section and click on 'Contact' field. Then go to the Form Assistant at your right-hand side and set it as in the image below and click on add.
It will populate the box right below the 'Add' button and the you should click on the 'Ok' button.
It will them populate to contact field as seen in the image below.
Click on 'Save and Close' and then save the process and click on 'Activate'. Your process is ready to use.
Now you will need to use the Advanced Find to search for all Survey Responses. The Advanced Find button is located at the top menu at your right-hand side next to the search box.
It will open a new window where you should select the 'Survey Response' as the type of data you are looking for.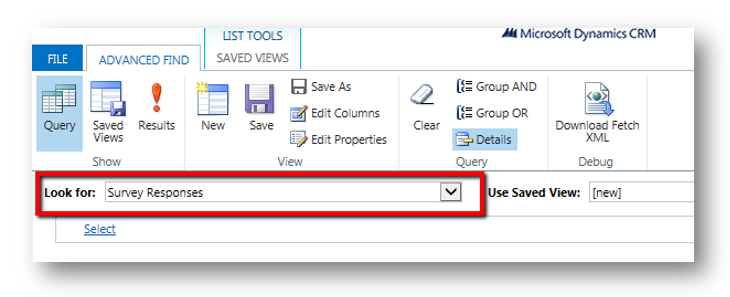 And then click on 'Results'. The page will load a list of Survey Responses. Click on the 'Tick' icon to select all records and then click on 'Run Workflow'. A new pop up will open and you should select the workflow you have just created and click on add.
If you have several pages you should navigate to the next page and selected all records as described above and run the workflow. Repeat this operation until you have covered all pages.
To simplify your work, we recommend that you increase the number of records per page. If you don't know how change it please check the 'How to increase the number of records per page'.