Your campaign must pass the following preflight checks before sending: Recipients, From, Domain and Subject. If you wish to run additional preflight checks, click Run All Preflight Checks, or click the preflight check name to run a check individually.

From email addresses with spaces will be picked up as invalid by the preflight report, where you will have the opportunity to correct the address.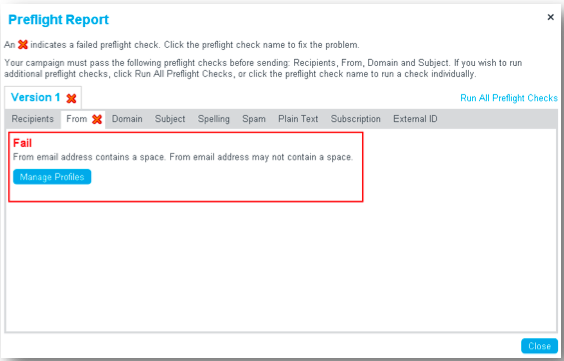 This is important because according to RFC 5322, spaces in email addresses are invalid. Furthermore, while RFCs set standards and are not law, currently Hotmail takes this very seriously and has a zero-tolerance policy when it comes to email addresses with spaces.
Emails sent with a from address with spaces e.g. space space@test.com to any Hotmail address will bounce. To ensure these emails deliver to Hotmail addresses, you must either add in an underscore e.g. space_space@test.com or remove the space
e.g. spacespace@test.com. 
The system uses the newest version of SpamAssassin to check your campaigns for spam characteristics prior to each send. If you choose to run the Spam preflight report, or if your organization has set it up to run as a default, the purpose of this feature is to inform you of the likelihood that your message will be categorized as spam by various Internet Service Providers (ISPs). A summary of any findings are provided in the Preflight Report dialog box under the Spam heading.
BODY: HTML has a low ratio of text to image area means that the campaign has heavy image content. You should consider adding more text to balance the campaign.

The "Multipart message mostly text/html MIME" finding refers to the proportion of the HTML version to the plain text version (content on plain text tab compared to content in Page 1).

The "raw illegal characters" finding is usually referring to characters such as &, <, >, \, /, # that may have been included in the content of your campaign.
The "one time rip off" finding refers to the text "one time" or "rip off" or some combination thereof within the campaign content.
Generally a score of less than 5 will prevent your message from being classified as spam. We recommend adjusting those elements that you can minimize, such as limiting the use of "free", dollar signs, all capital letters, etc.
For additional information about a finding on the Spam preflight report, you can also copy and paste the specific finding here: http://wiki.apache.org/spamassassin/FindPage