Surveys are a powerful tool that allow you to collect information from your contacts or others who access the URL link for the survey. You can use surveys to setup all types of questionnaires, from simple to complex. However in some cases, you may only need a simple tool to collect straightforward feedback (e.g. Yes/No) without the need to gather additional details. Polls are a great feature to collect and track information in those scenarios.
Adding poll links to a campaign is particularly useful for poll answers and RSVP's, the primary difference between this and a standard link is that a customisable confirmation popup is visible to the recipient once clicked. Follow the instruction and images below to create a poll link in your campaign.
A separate poll link will need to be created for each poll answer you want to track. Then after a recipient clicks a poll link, a confirmation window will display with a brief message. 
Each click of a poll link is also recorded in Reports (Report > Links). This means, for example, you could review the reporting details for who clicked each link to view who answered yes or no. Please note if a recipient forwards the campaign, any additional clicks will also be recorded under their email address as all links are individually tied to the recipient.
(If you do not wish for the data to be collapsed in this way, you would need to create a survey to collect the information.)
1. Go to the Content step of an in progress campaign.
2. Click into the editable area, and select the text or image you wish to link. (If no text or image is selected, the poll answer you enter in step #4 will be used as the link.)
3. Click the Create Link icon in the editing toolbar, and click the Poll tab.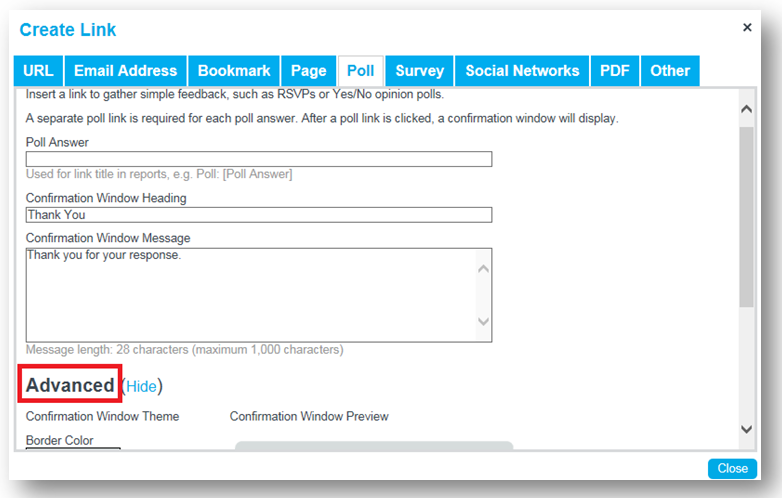 4. Enter the poll answer you wish to link to.
5. Optionally modify the heading and message that will appear in the confirmation window after a recipient clicks the link. In the Advanced section you are also able to customise the Confirmation window.
6. Click the Create Link to Poll button.