Send allows Users to know from which Group a Contact is from when a list of contacts has been exported as XLS or CSV files.
To download a Contacts list, select the Contacts tab in the main selection bar.

Click to enlarge
To export your Contacts list, select the orange arrow button on the left hand side of the Contacts page. From the dropdown list select either 'Export Contact as CSV' or 'Export Contacts as XLS' whichever is the most appropriate and the Group Contact list will be exported.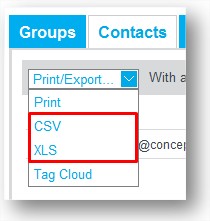 Click to enlarge
Once the Group Contact List has been downloaded, the User can find the Group in which each Contact exists in the far right hand column of the spreadsheet.
If a Contact is in more than one than one Group, all their Groups will be listed (separated by a comma) in the Groups column when exported.